Editorial
The Case of Nurse Letby: Systems Failure in Safeguarding Patients: Impact of Differential Protection for Whistleblowers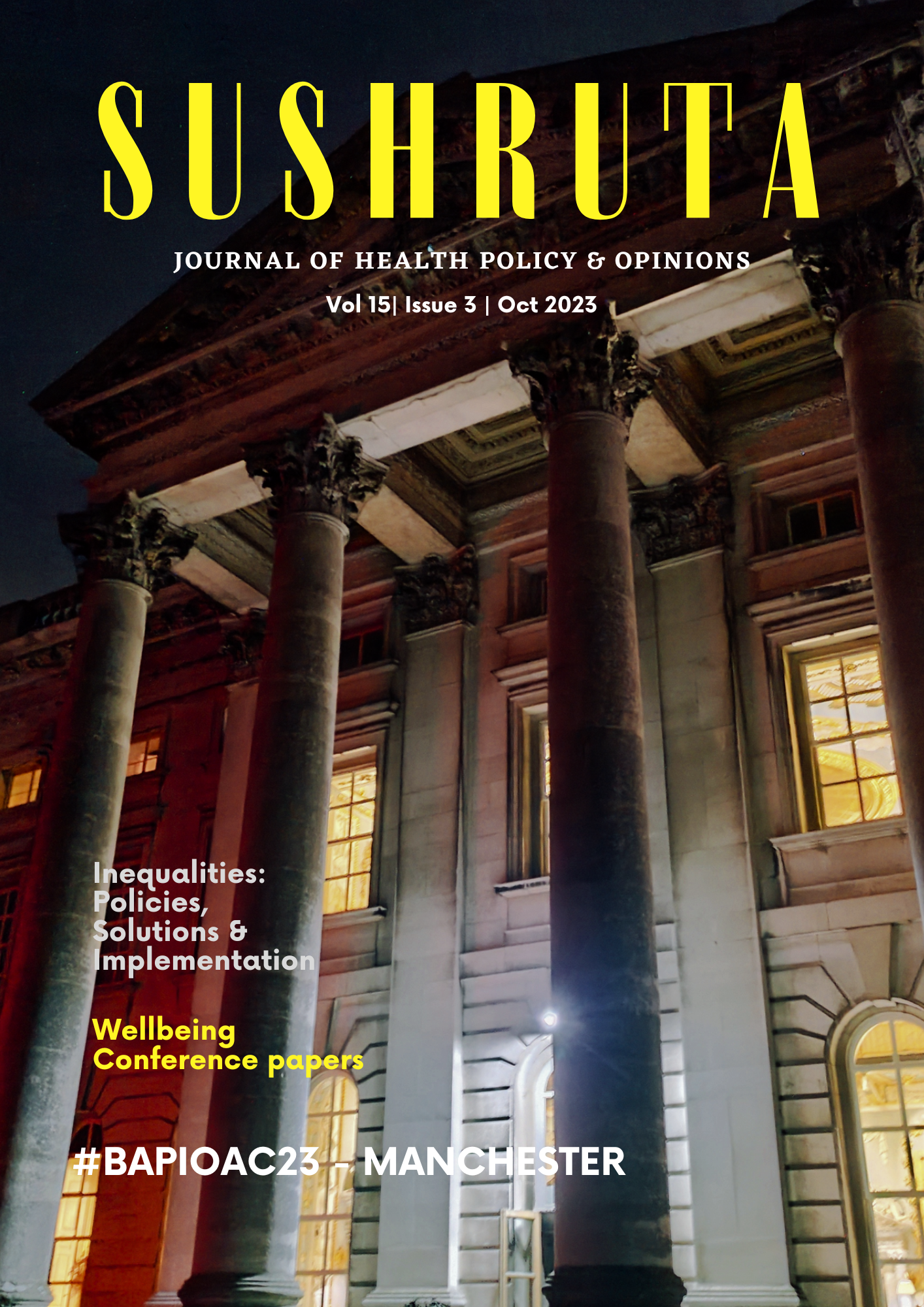 Published 2023-10-03
Keywords
Whistleblowing

,

Lucy Letby

,

Differential treatment

,

retaliation
How to Cite
Chakravorty, I. (2023). The Case of Nurse Letby: Systems Failure in Safeguarding Patients: Impact of Differential Protection for Whistleblowers. Sushruta Journal of Health Policy & Opinion, 15(3). https://doi.org/10.38192/15.3.4
Copyright (c) 2023 Indranil Chakravorty
This work is licensed under a Creative Commons Attribution 4.0 International License.
Abstract
The case of nurse Lucy Letby killing innocent babies in a neonatal unit, has yet again shaken the confidence of society in healthcare professionals and forced many professionals themselves to reflect on what impact this may have on their practice. Like in wider society, there are professionals who cause harm to others deliberately, and in some cases demonstrate attributes of serial killers. This is not new, and sadly is highly unlikely to be ever eradicated. What has shaken the healthcare professionals more than the murders of innocents, (if that was ever theoretically possible) is the failure of leadership to heed to concerns raised (whistleblowing) by a number of senior clinicians. 
The actions of the leaders almost amounts to criminally protecting the perpetrator in this case. So it appears that established systems for raising concerns were blatantly defeated by the action of leaders. There is also an additional concern that the profile of the perpetrator may have played a role in how the leaders reacted to protect her. There are contrasts being drawn by analysts to cases where people with different personal attributes (protected characteristics such as colour, race, religion) may have played a significant part. This highlights the other elephant in the room, the differential treatment of people in society and in the healthcare professions based on their race of protected charateristics. 
What can the profession and society learn from this and similar gruesome incidents? How should leadership accountability be established? What recourse do patients and professionals have to expect their concerns to be taken seriously before harm occurs? What is the implication of 'Martha's rule' mean to healthcare?
References
Jackson, T. & Smith, R. Harold Shipman. BMJ 328, 231 (2004).
Baker, R. & Hurwitz, B. Intentionally harmful violations and patient safety: the example of Harold Shipman. J. R. Soc. Med. 102, 223–227 (2009).
Baker, R. Patient-centred care after Shipman. J. R. Soc. Med. 97, 161–165 (2004).
Mannion, R. et al. Healthcare scandals and the failings of doctors. J. Health Organ. Manag. 33, 221–240 (2019).
Charles Cullen: The true story of a hospital killer and 'The Good Nurse' who brought him to justice. Sky News https://news.sky.com/story/the-good-nurse-the-true-story-of-killer-charles-cullen-and-the-colleague-who-brought-him-to-justice-12729287.
Kempt, H. & Nagel, S. K. Responsibility, second opinions and peer-disagreement: ethical and epistemological challenges of using AI in clinical diagnostic contexts. J. Med. Ethics 48, 222–229 (2022).
Hamilton, D. W., Heaven, B., Thomson, R. G., Wilson, J. A. & Exley, C. Multidisciplinary team decision-making in cancer and the absent patient: a qualitative study. BMJ Open 6, e012559 (2016).
Supporting open data and transparency. NHS Digital https://digital.nhs.uk/services/supporting-open-data-and-transparency.
Batko, K. & Ślęzak, A. The use of Big Data Analytics in healthcare. J. Big Data 9, 3 (2022).
Dyer, C. Martha's rule: What could the proposed changes mean for doctors? BMJ 382, p2067 (2023).
Ryan's Rule. Clinical Excellence Queensland | Queensland Health https://clinicalexcellence.qld.gov.au/priority-areas/safety-and-quality/ryans-rule.
Dwyer, T. A., Flenady, T., Kahl, J. & Quinney, L. Evaluation of a patient and family activated escalation system: Ryan's Rule. Aust. Crit. Care 33, 39–46 (2020).
Gill, F. J., Leslie, G. D. & Marshall, A. P. Family initiated escalation of care for the deteriorating patient in hospital: Family centred care or just "box ticking". Aust. Crit. Care 29, 195–200 (2016).
Bolsin, S., Pal, R., Wilmshurst, P. & Pena, M. Whistleblowing and patient safety: the patient's or the profession's interests at stake? J. R. Soc. Med. 104, 278–282 (2011).
Re: Whistleblower was unfairly dismissed in case lasting 12 years, tribunal rules. g2881 (2021).
Cooper, B. 'I was left to fight alone for NHS whistleblowing protection' | Benedict Cooper. The Guardian (2018).
Freedom to Speak Up.
Whistleblowing for employees. GOV.UK https://www.gov.uk/whistleblowing.
Wolfe, S., Worth, M., Dreyfus, S. & Brown, A. J. Breaking the silence: strengths and weaknesses in G20 whistleblower protection laws. https://apo.org.au/node/41246 (2014).
Loyens, K. & Vandekerckhove, W. Whistleblowing from an International Perspective: A Comparative Analysis of Institutional Arrangements. Adm. Sci. 8, 30 (2018).
Bjørkelo, B., Einarsen, S., Nielsen, M. B. & Matthiesen, S. B. Silence is golden? Characteristics and experiences of self-reported whistleblowers. Eur. J. Work Organ. Psychol. 20, 206–238 (2011).
Tiitinen, L. The power of silence: silencing as a method of preventing whistleblowing. Eur. J. Soc. Work 23, 68–79 (2020).
Waring, J. When Whistle-blowers Become the Story: The Problem of the 'Third Victim'. Int. J. Health Policy Manag. 5, 133–135 (2015).
davidhencke. Tribunal of the Absurd: My Verdict on the Dr Chris Day whistleblower case. Westminster Confidential https://davidhencke.com/2022/11/19/tribunal-of-the-absurd-my-verdict-on-the-dr-chris-day-whistleblower-case/ (2022).
davidhencke. Judge adjourns £180,000 costs hearing case against whistleblower consultant Dr Usha Prasad. Westminster Confidential https://davidhencke.com/2023/08/23/judge-adjourns-180000-costs-hearing-case-against-whistleblower-consultant-dr-usha-prasad/ (2023).
Dyer, C. Whistleblower was unfairly dismissed in case lasting 12 years, tribunal rules. BMJ 348, g2881 (2014).
Trust CEO 'behaved poorly' and chair was 'complicit', NHS England review concludes. Patient Safety Learning - the hub https://www.pslhub.org/blogs/entry/3216-trust-ceo-%E2%80%98behaved-poorly%E2%80%99-and-chair-was-%E2%80%98complicit%E2%80%99-nhs-england-review-concludes/ (2022).
Whistleblower's book lifts lid on fight against Walsall Manor Hospital chiefs. https://www.expressandstar.com/news/2014/06/04/whistleblowers-book-lifts-lid-on-fight-against-walsall-manor-hospital-chiefs/ (2014).
CRC0018 - Evidence on Complaints and Raising Concerns. https://committees.parliament.uk/writtenevidence/49243/html/.
Bahji, A. & Altomare, J. Prevalence of intimidation, harassment, and discrimination among resident physicians: a systematic review and meta-analysis. Can. Med. Educ. J. 11, e97–e123 (2020).
Chakravorty, I. et al. Bridging the Gap 2021- Summary Report: Sushruta J. Health Policy Opin. 1–52 (2021) doi:10.38192/btg21.1.
Bhui, K. Ethnic inequalities in health: The interplay of racism and COVID-19 in syndemics. EClinicalMedicine 36, 100953 (2021).
Pavithra, A., Sunderland, N., Callen, J. & Westbrook, J. Unprofessional behaviours experienced by hospital staff: qualitative analysis of narrative comments in a longitudinal survey across seven hospitals in Australia. BMC Health Serv. Res. 22, 410 (2022).
Leclerc, O. Overarmed or underdressed? whistleblowers between anti-discrimination law and freedom of expression. Int. J. Discrim. Law 13582291231154160 (2023) doi:10.1177/13582291231154161.
Freedom to Speak Up: guidance for NHS trust and NHS foundation trust boards | NHS Improvement. https://improvement.nhs.uk/resources/freedom-speak-guidance-nhs-trust-and-nhs-foundation-trust-boards/.
Review finds decrease in workforce confidence to speak up | NHS Employers. https://www.nhsemployers.org/news/review-finds-decrease-workforce-confidence-speak.
Savage, A. & Hyde, R. The response to whistleblowing by regulators: a practical perspective. Leg. Stud. 35, 408–429 (2015).
The Whistleblowers: 100 Women of the Year. Time https://time.com/5793757/the-whistleblowers-100-women-of-the-year/ (2020).
Mathur, A. & Ramesh, V. Need of the Hour: Reformation in the Scope of Whistleblower Policies and Protection. SSRN Scholarly Paper at https://doi.org/10.2139/ssrn.3521142 (2020).
UN Ethics Office. https://www.un.org/en/ethics/protection-against-retaliation/index.shtml.
External_Whistleblowing_Policy_-_October_2013__1___1_.pdf