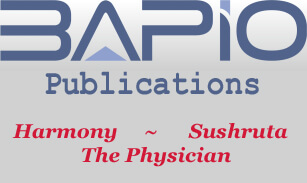 Sushruta is a Journal of Health Policy
Sushruta is published as a quarterly, open-access, scholarly journal for professionals and scientists associated with research and delivery of health care and its policy. The scope of this journal includes the full range of diverse, multi-professional health and social care workforce and global partners.
The journal aims to represent the breadth of issues on health policy and opinions which impact the readership, affect them, and the wider healthcare community. The readership includes undergraduates, postgraduates, and established professionals globally.
The views expressed, are of the authors and peer-reviewed (open) by independent global experts. The editorial board does not limit or direct the content except in maintaining professionalism, checking the evidence base for references (where relevant). All care is taken to ensure that articles comply with current UK law and are GDPR compliant.
The members of the Editorial Board are voluntary, appointed for a 3-year term with mutually agreed extension for an additional 2 years. They are editorially independent of the sponsoring organisation (BAPIO).
Sushruta is published by BAPIO Publications Ltd in print, pdf, and online. The Journal aims to fully comply with the Code of Publication Ethics. The Editorial Board meets every month on Thursdays online. All minutes of meetings are available. The Board has defined its mission, business, and sustainability plan for 2020-2023. This is available on request. Membership is open to any healthcare professionals from the UK, the Indian sub-continent, and across the world. BAPIO is affiliated to the Global Association of Physicians of Indian Origin and other similar organisations.
Guidance for Authors
Please submit all articles in MS Word format or as Rich Text. There is no strict limit on words but most articles should be within 3000 words and 30 references. References should be in Vancouver format.
All pictures. figures and tables should be sent separately and have a clear indication in the text of the manuscript.
All articles are published under Open Access publication principles and are available free to download with appropriate citations. The authors must hold the copyright for the material submitted. All copyrights are protected by the Creative Commons Licence International V4.0 terms (CC-BY-ND-4.0).
Manuscripts can also be submitted online or by email to editor.sushruta@bapio.co.uk
The Journal does not charge the authors' article processing charges (APC) at present. There are no author charges of any kind.
Sushruta is a member of DOI through Crossref and indexed by Google Scholar and introduced an open, post-publication peer review from vol 13, issue 2 (July).
It is cited by


Plagiarism check is applied for all new submissions using Turnitin and Crossref's Similarity Check system.
Complaints Process
The journal is indemnified by BAPIO Ltd. Any complaints relating to the published material should first be submitted to the editors via email editor.sushruta@bapio.co.uk. Any complaints relating to commercial interests or grievances can be addressed to the BAPIO Executive Committee via admin@bapio.co.uk We aim to provide a formal written response within 4 weeks or earlier.
Archiving
Content Archiving is currently on a cloud drive (Google Drive and Onedrive). We are applying for inclusion in the CLOCKSS archiving system.