Policy
Climate Change and Nutrition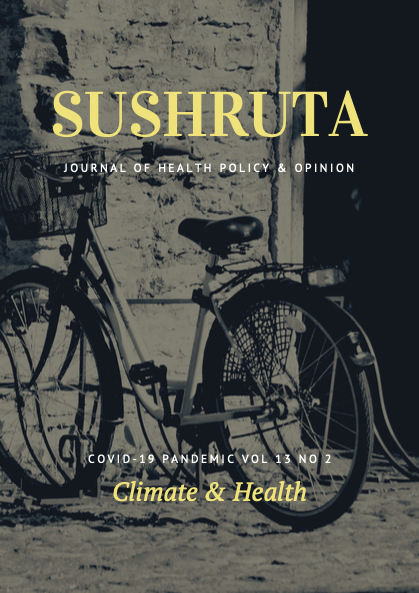 Published 2020-04-23
Keywords
sustainability

,

food systems

,

nutrition

,

climate change
How to Cite
Kelly, N. (2020). Climate Change and Nutrition. Sushruta Journal of Health Policy & Opinion, 13(2). https://doi.org/10.38192/13.2.8
Abstract
Human health and planetary health are intertwined in many ways, food systems being an example. This article describes the complex manner in which food systems impact the environment and how our dietary choices have consequences for climate change. Subsequent changes to weather patterns and ecosystems can then destabilise these food systems impacting on human health. This article explains how various components of food systems must be considered when attempting to understand the effects on climate change. It concludes by offering practical solutions on an individual and societal level to mitigate these effects.
References
Garnett T, Smith P, Nicholson W, Finch J. Food systems and greenhouse gas emissions (Foodsource: chapters). 2016.
Office for National Statistics. Food Statistics in your pocket 2017 - Global and UK supply - GOV.UK [Internet]. Food Statistics Pocketbook. 2017 [cited 2020 Mar 10]. Available from: https://www.gov.uk/government/publications/food-statistics-pocketbook-2017/food-statistics-in-your-pocket-2017-global-and-uk-supply
Cavigli I, Daughenbaugh KF, Martin M, Lerch M, Banner K, Garcia E, et al. Pathogen prevalence and abundance in honey bee colonies involved in almond pollination. Apidologie. 2016 Mar 1;47(2):251–66.
Springmann M, Mason-D'Croz D, Robinson S, Garnett T, Godfray HCJ, Gollin D, et al. Global and regional health effects of future food production under climate change: A modelling study. Lancet. 2016 May 7;387(10031):1937–46.
Special Report on Climate Change and Land — IPCC site [Internet]. [cited 2020 Mar 21]. Available from: https://www.ipcc.ch/srccl/
Green R, Milner J, Dangour AD, Haines A, Chalabi Z, Markandya A, et al. The potential to reduce greenhouse gas emissions in the UK through healthy and realistic dietary change. Clim Change. 2015 Jan 26;129(1–2):253–65.