Reviews
Improving the Working Lives of BME Doctors : Review recommendations pave the way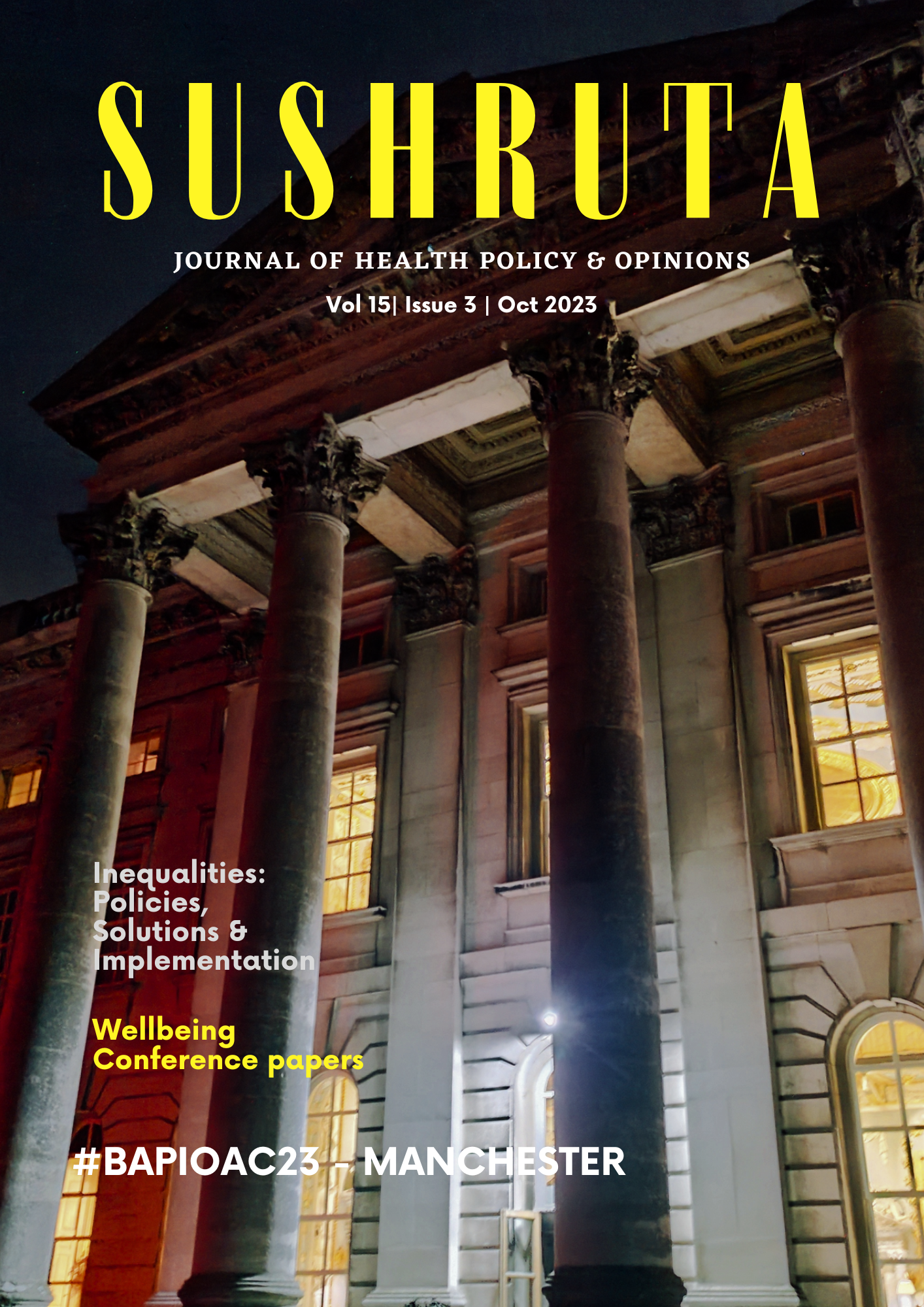 Published 2023-10-03
Keywords
compassion

,

gmc uk

,

health professional

,

fitness to practice

,

Arora
How to Cite
Singh, I. (2023). Improving the Working Lives of BME Doctors : Review recommendations pave the way. Sushruta Journal of Health Policy & Opinion, 15(3). https://doi.org/10.38192/15.3.14
Copyright (c) 2023 Professor Iqbal Singh CBE FRCP
This work is licensed under a Creative Commons Attribution 4.0 International License.
Abstract
In November 2022, the General Medical Council (GMC) published an independent review of its fitness to practice processes and the handling of the case of locum general practitioner Dr Manjula Arora. She was suspended for a period of one month in relation to a laptop request having been found to be 'dishonest in obtaining a laptop when in fact the Trust had recorded her interest in asking for a work laptop'. The consternation was instant and palpable.
The medical profession found it difficult to understand how a request for a laptop had passed through different stages of the fitness to practice process (FtP) resulting in a sanction of a suspension to her license to practice. The profession was left in a state of shock resulting in a loss of trust for the GMC. This also threatened to undermine support from Black and Minority Ethnic (BME) organisations and the medical profession for the GMC's plans to eradicate a legacy of racial discrimination.
The review made recommendations in four areas:
Professional curiosity and local resolution first.
The need for cultural competency and diversity intelligence.
Embedding compassion in all dealings by the GMC and Medical Practitioner Tribunal Service (MPTS).
Providing support for doctors before, during and after the complaints process.
References
Further reading
MPS survey: GMC investigations impact on the health of 72% of doctors. Articles https://www.medicalprotection.org/uk/articles.
General Medical Council. Independent review of gross negligence manslaughter and culpable homicide. June, 2019. https://www.gmc-uk. org/-/media/documents/independent-review-of-gross-negligence- manslaughter-and-culpable-homicide---final-report_pd-78716610.pdf (accessed Feb 28, 2023).
Singh SE, Parajuli M, Ahmed R, Singh I. Lessons from Bawa-Garba and moving forward. Br J Hosp Med (Lond) 2018; 79: 484–85.
Sellu D. When will the GMC admit that its processes might be racially biased? BMJ 2021; 374: n2149.
Singh I, Forde M. The GMC's handling of the case of Dr Manjula Arora. An independent learning review. November, 2022. https://www.gmc-uk. org/-/media/documents/the-gmc-s-handling-of-the-case-of-dr-manjula- arora-an-independent-learning-review-professor-94950326.pdf (accessed Nov 2, 2022).
Salisbury H. Helen Salisbury: we are all Manjula Arora. BMJ 2022; 377: o1353.
Nagpaul C. An independent, root and branch review and reform of GMC processes is needed to ensure fairness in medical regulation. BMJ 2022; 377: o1346.
Abbasi K. The GMC has lost the profession's trust and respect. BMJ 2022; 377: o1374.
General Medical Council. Our targets to address areas of inequality. 2022. https://www.gmc-uk.org/about/how-we-work/equality-diversity-and- inclusion/our-targets-to-address-areas-of-inequality (accessed Feb 28, 2023).
General Medical Council. The GMC's fitness to practise procedures. April, 2014. https://www.gmc-uk.org/media/documents/DC4541_The_GMC_s_Fitness_to_Practise_procedures.pdf_25416512.pdf (accessed Feb 28, 2023).
General Medical Council. Supporting vulnerable doctors. Report on doctors who have died while under investigation or during a period of monitoring. 2020. https://www.gmc-uk.org/-/media/documents/doctors-who-have- died-while-under-investigation-or-during-a-period-of-monitoring-2018-2020--89398370.pdf (accessed Feb 28, 2023).
Medical Protection Society. MPS: GMC investigations impact on the health of 72% of doctors. Oct 20, 2014. https://mpscdnuks.azureedge.net/ resources/docs/mp/default-document-library/impact-of-gmc- investigations.pdf (accessed Feb 28, 2023).
Singh I. Understanding of cultural competence is essential for the delivery of compassionate, fair, and proportionate medical regulations. Lancet Aug 5 2023, vol 402 pp 434-435. Published online March31 2023 https://doi.org/10.1016/s0140-6736(23)00524-x