Articles
The Regulation of Apology In Healthcare: Learning from GMC V Dr Pandian 2023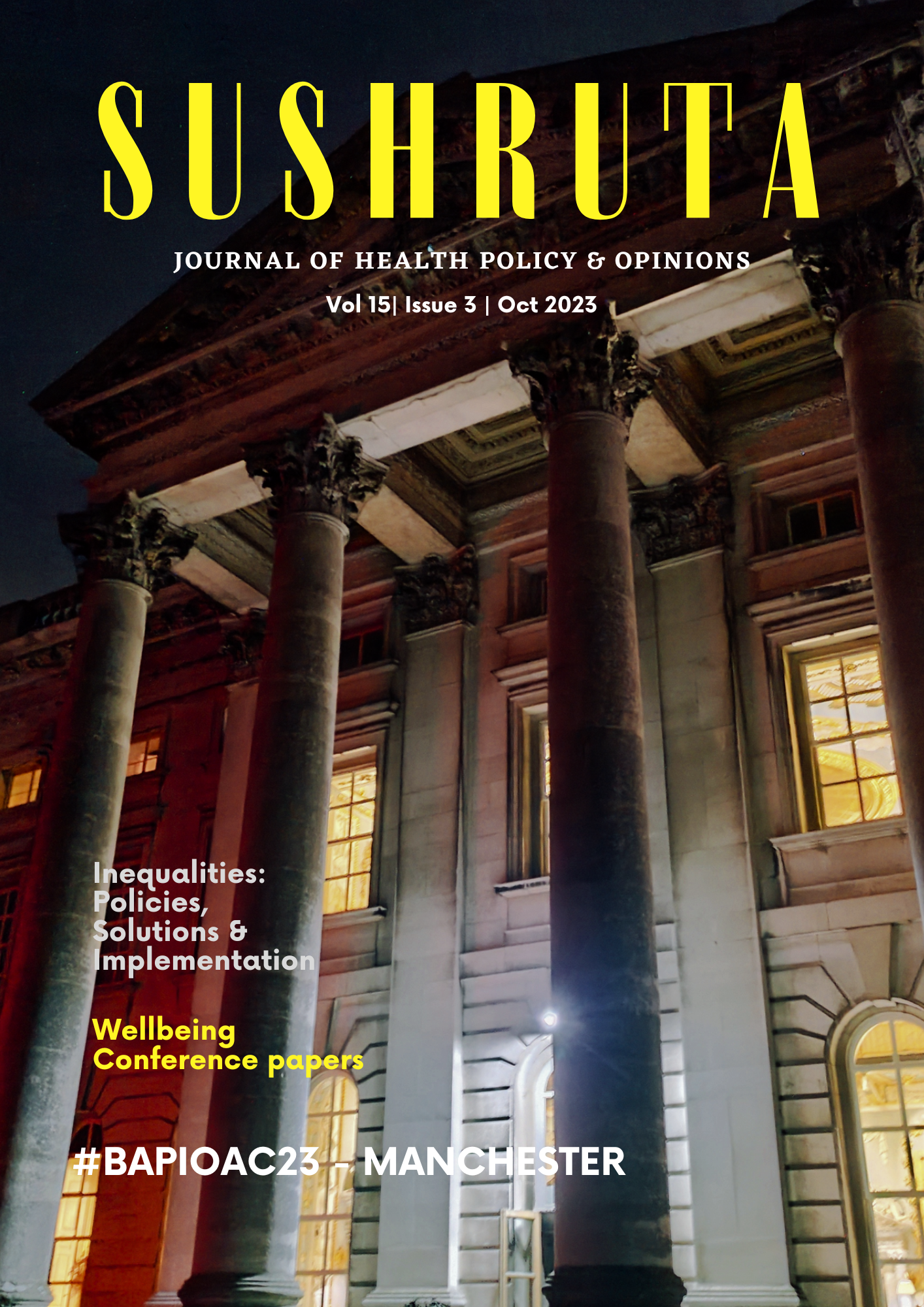 Published 2023-10-03
Keywords
apology

,

GMC UK

,

MPTS

,

medical regulation
How to Cite
Jacob, M.-A. (2023). The Regulation of Apology In Healthcare: Learning from GMC V Dr Pandian 2023. Sushruta Journal of Health Policy & Opinion, 15(3). https://doi.org/10.38192/15.3.11
Copyright (c) 2023 Marie-Andree Jacob
This work is licensed under a Creative Commons Attribution 4.0 International License.
Abstract
"The MTPS case involving Dr Pandian has sparked significant debate within the medical profession, particularly regarding the disciplinary process and its implications for international medical graduates, gender dynamics, and attitudes towards complaints. A noteworthy factor contributing to the strong reactions in GMC v Pandian is the 2014 implementation of a statutory duty on healthcare providers to be open and honest when medical harm occurs. This legal duty of candour complements existing ethical and professional obligations to maintain transparency and openness with colleagues and patients. This article reflects on the intriguing role of apologies, both inside and outside legal and disciplinary proceedings.
It is acknowledged that healthcare professionals often hesitate to issue apologies due to concerns about potential legal liabilities or substantial claims. In response to this challenge, legislators have introduced apology laws, creating 'safe spaces' where healthcare providers can apologise without necessarily admitting liability. Paradoxically, however, research suggests that these regulatory measures may discourage apologies and hinder honest communication regarding medical harm. Furthermore, incorporating apologies into legal frameworks may unintentionally strip apologies of their inherently humane and uncertain nature."
References
Dr Nithya Santhanalakshmi SHUNMUGAVEL PANDIAN May 23. https://www.mpts-uk.org/hearings-and-decisions/medical-practitioners-tribunals/dr-nithya-santhanalakshmi-shunmugavel-pandian--may-23.
Openness and honesty when things go wrong: The professional duty of candour. https://www.gmc-uk.org/ethical-guidance/ethical-guidance-for-doctors/candour---openness-and-honesty-when-things-go-wrong.
Austin, J. L. How to Do Things with Words: Second Edition. (Harvard University Press, 1975).
Alberstein, M. & Davidovitch, N. Apologies in the Healthcare System: From Clinical Medicine to Public Health. Law Contemp. Probl. 74, 151–175 (2011).
Fokas, E. & Anagnostou, D. The "Radiating Effects" of the ECtHR on Social Mobilizations Around Religion and Education in Europe: An Analytical Frame. Polit. Relig. 12, S9–S30 (2019).
Ross, N. E. & Newman, W. J. The Role of Apology Laws in Medical Malpractice. J. Am. Acad. Psychiatry Law 49, 406–414 (2021).
Williamson, R. Forgive and Remember: Managing Medical Failure, 2nd edition. J. R. Soc. Med. 97, 147–148 (2004).
Medicine in the Making of Modern Britain, 1700-1920. Routledge & CRC Press https://www.routledge.com/Medicine-in-the-Making-of-Modern-Britain-1700-1920/Lawrence/p/book/9780415091688.
Wilde, S. Truth, trust, and confidence in surgery, 1890-1910: patient autonomy, communication, and consent. Bull. Hist. Med. 83, 302–330 (2009).
Kelly, C. & Quick, O. The legal duty of candour in healthcare: the lessons of history? North. Irel. Leg. Q. 70, 77–92 (2019).
Katz, J. The Silent World of Doctor and Patient. (Johns Hopkins University Press, 1984).
Mastroianni, A. C., Mello, M. M., Sommer, S., Hardy, M. & Gallagher, T. H. The flaws in state 'apology' and 'disclosure' laws dilute their intended impact on malpractice suits. Health Aff. Proj. Hope 29, 1611–1619 (2010).
Beauchamp, T. L. & Childress, J. F. Principles of Biomedical Ethics. (Oxford University Press, 2001).
Berlinger, N. After Harm: Medical Error and the Ethics of Forgiveness. (Johns Hopkins University Press, 2005).
Court, T. S. Montgomery (Appellant) v Lanarkshire Health Board (Respondent) (Scotland) - The Supreme Court. https://www.supremecourt.uk/cases/uksc-2013-0136.html.
The Cultural Politics of Emotion. Edinburgh University Press Books https://edinburghuniversitypress.com/the-cultural-politics-of-emotion-772.html.
Taft, L. Apology Subverted: The Commodification of Apology. Yale Law J. 109, 1135–1160 (2000).
Allsop, J. & Mulcahy, L. Maintaining Professional Identity: Doctors' Responses to Complaints. Sociol. Health Illn. 20, 802–824 (1998).