Articles
Impact of a Social Media Group on Health and Well-being of Healthcare Professionals: "Results of a Well-Net Survey"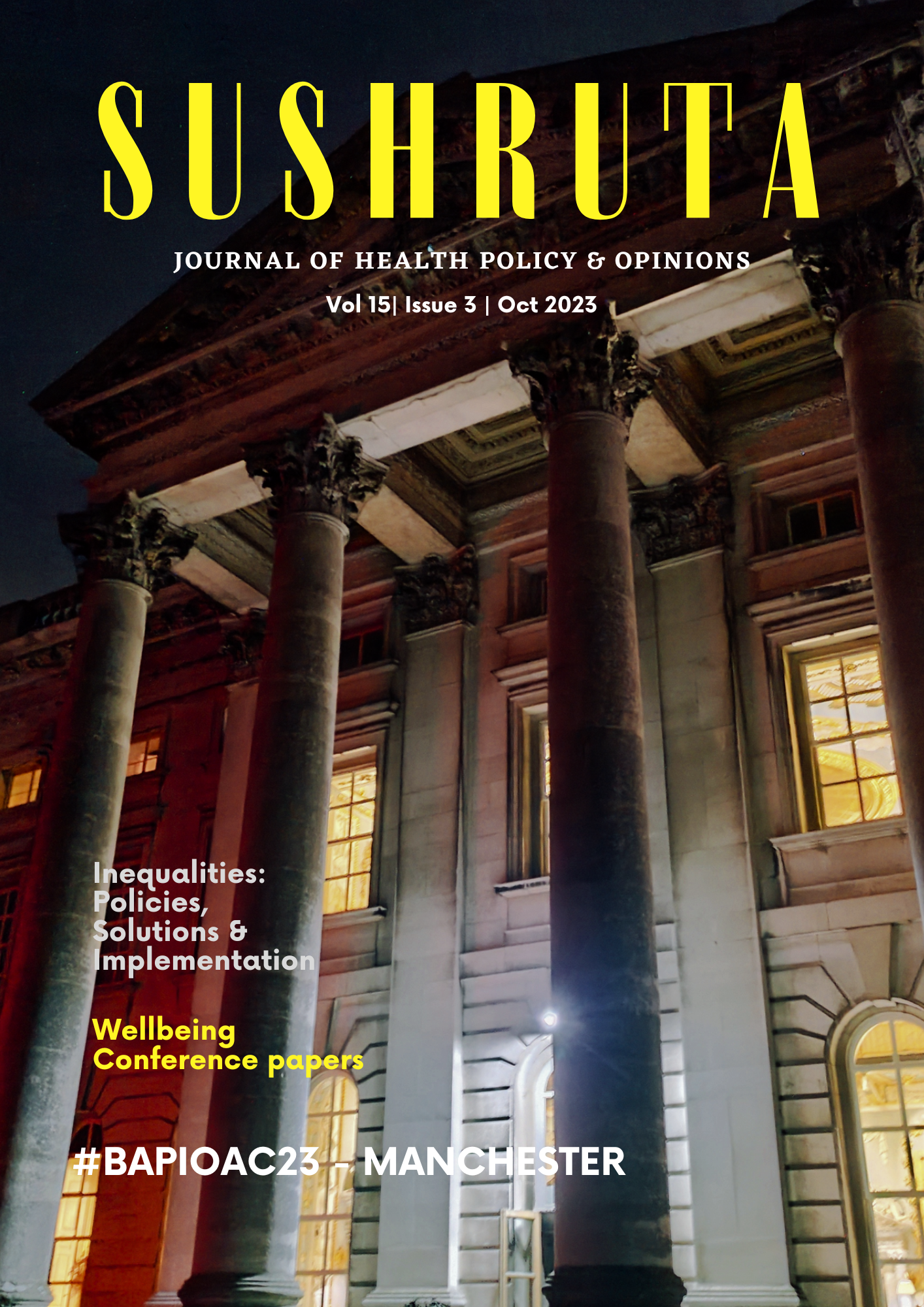 Published 2023-10-03
How to Cite
Hosdurga, S. (2023). Impact of a Social Media Group on Health and Well-being of Healthcare Professionals: "Results of a Well-Net Survey". Sushruta Journal of Health Policy & Opinion, 15(3). https://doi.org/10.38192/15.3.9
Copyright (c) 2023 Saraswati Hosdurga
This work is licensed under a Creative Commons Attribution 4.0 International License.
Abstract
Healthcare professionals report workplace stress, burnout and a high prevalence of physical and mental health conditions which may have an impact on their performance and affect outcomes for patients. These include hypertension, diabetes, obesity, anxiety, and depression. As illustrated during the differential outcomes observed during the COVID-19 pandemic, health can be further worsened by social isolation, and incivility in the workplace and impact those from minority backgrounds or with protected characteristics.
Social media groups such as Whats App, Facebook and others offer a safe space for psychological support, peer motivation and flexibility of access to health and wellbeing resources. The British Association of Physicians of Indian Origin spearheaded the formation of a voluntary Well-Net group focussing on health and wellbeing activities in February 2021, which was open to professionals, their friends, and families.
The results of a survey undertaken among the members of such a Well-Net group demonstrated that the combination of peer motivation and flexible access to health and wellbeing support activities improves physical, and mental health and reduces stress levels.  A healthy workforce will perform better and lead to safer outcomes for patients. The results make the case for targeted investment in flexible provision for health and wellbeing activities for healthcare professionals, both by employers and voluntary organisations.
References
Bridgeman, P. J., Bridgeman, M. B. & Barone, J. Burnout syndrome among healthcare professionals. Am. J. Health-Syst. Pharm. AJHP Off. J. Am. Soc. Health-Syst. Pharm. 75, 147–152 (2018).
Vizheh, M. et al. The mental health of healthcare workers in the COVID-19 pandemic: A systematic review. J. Diabetes Metab. Disord. 19, 1967–1978 (2020).
Berkman, L. F. & Krishna, A. Social Network Epidemiology. in Social Epidemiology (eds. Berkman, L. F., Kawachi, I. & Glymour, M. M.) 0 (Oxford University Press, 2014). doi:10.1093/med/9780195377903.003.0007.
Søvold, L. E. et al. Prioritizing the Mental Health and Well-Being of Healthcare Workers: An Urgent Global Public Health Priority. Front. Public Health 9, (2021).
Brand, S. L. et al. Whole-system approaches to improving the health and wellbeing of healthcare workers: A systematic review. PLoS ONE 12, e0188418 (2017).
Mental wellbeing at work | Guidance | NICE. https://www.nice.org.uk/guidance/ph22 (2009).
Pierce, M. et al. Mental health responses to the COVID-19 pandemic: a latent class trajectory analysis using longitudinal UK data. Lancet Psychiatry 8, 610–619 (2021).
Holtzclaw, L., Arlinghaus, K. R. & Johnston, C. A. The Health of Health Care Professionals. Am. J. Lifestyle Med. 15, 130–132 (2020).
Stevenson, J. & Rao, P. M. Explaining levels of wellbeing in Black and Minority Ethnic populations in England. 72.
Boorman, S. Health and well‐being of the NHS workforce. J. Public Ment. Health 9, 4–7 (2010).
Improving the health of the NHS workforce: Report of the partnership on the health of the NHS workforce. Nuffield Trust https://www.nuffieldtrust.org.uk/research/improving-the-health-of-the-nhs-workforce-report-of-the-partnership-on-the-health-of-the-nhs-workforce.
Daga, S. et al. Culturally-tailored Peer Support for Doctors and Nurses of Indian Origin. Sushruta J. Health Policy Opin. 14, 1–8 (2021).