Articles
Putting Compassion Back into Care: Focus on Minority Ethnic Families Experiencing Dementia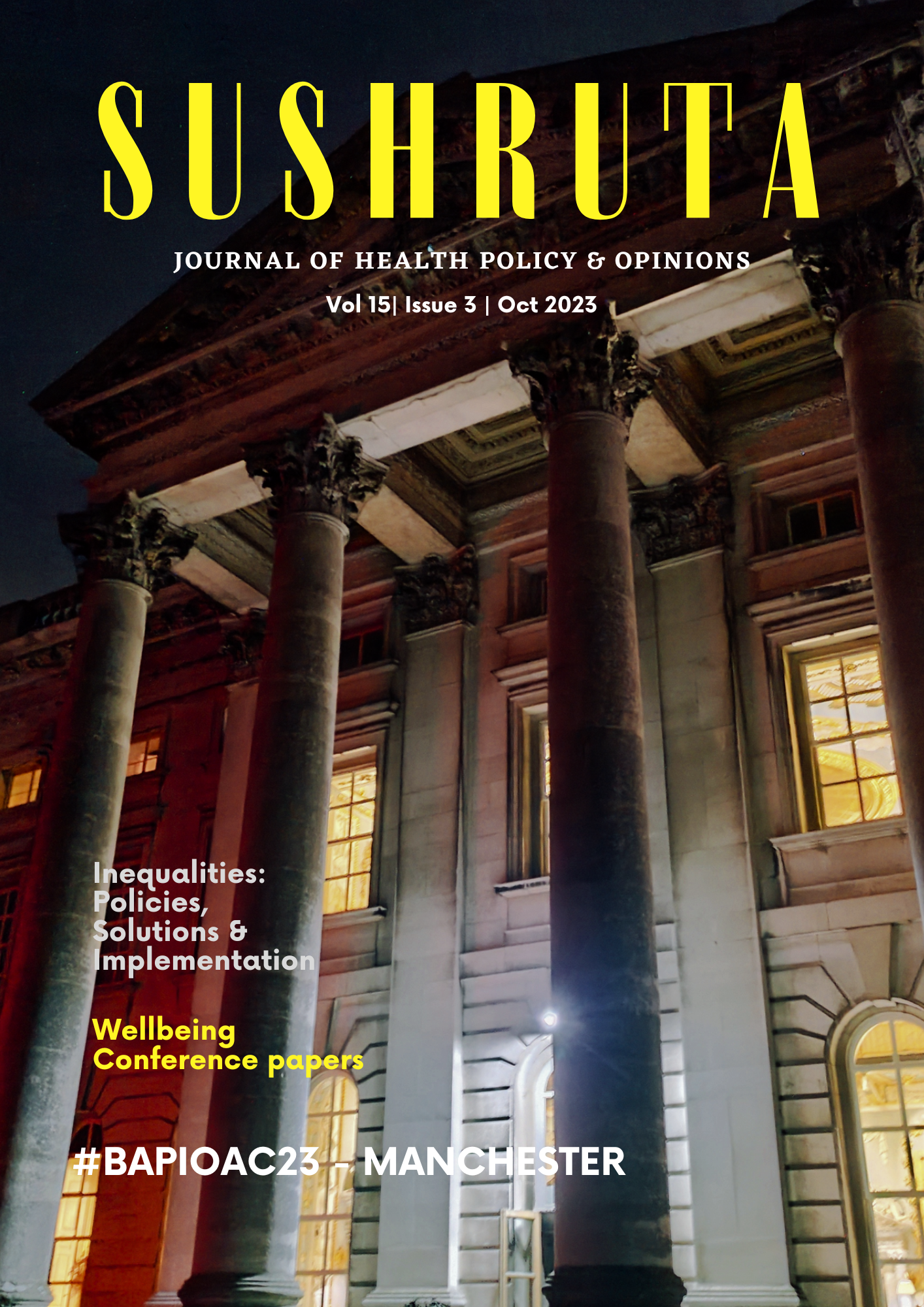 Published 2023-10-03
Keywords
compassion

,

empathy

,

dementia care
How to Cite
Aynsley-Green, A. (2023). Putting Compassion Back into Care: Focus on Minority Ethnic Families Experiencing Dementia. Sushruta Journal of Health Policy & Opinion, 15(3). https://doi.org/10.38192/15.3.13
Copyright (c) 2023 Sir Al Aynsley-Green Kt.
This work is licensed under a Creative Commons Attribution 4.0 International License.
Abstract
Public services are stressed by soaring demand, inadequate capacity, staff burnout and low morale with strikes reflecting profound unhappiness. With so many difficulties, the fundamental need for compassion in public services has been eroded, with adverse consequences for patients and their families or carers. The need for compassion is not only an individual's humanitarian and professional responsibility but one that should be given high priority by organisations, educational institutions, and professional bodies. 
The care of patients with dementia and support for families or carers provides a perfect example of such disparities and their devastating impact. The implications for families affected by dementia in minority ethnic or marginalised communities are considered alongside the need for a 'paradigm shift' to patient-centred, 'needs-based' services to improve outcomes. This article explores and attempts to extrapolate the relevance of personal experience to those in minority ethnic or marginalised communities on whom there is limited information and those who have little voice or advocacy.1 There is a distinct role for charitable and third-sector organisations with a deeper understanding of the cultural context to demonstrate leadership in moving policy and resources to address such societal and service disparities.
References
Experiences of South Asians in the COVID-19 pandemic in Hong Kong. https://www.tandfonline.com/doi/full/10.1080/19438192.2023.2198337.
Compassion and dementia. Part of Life https://www.partoflife.org/conversations/sir-al-on-compassionate-care-and-dementia.
Singh, P., King-Shier, K. & Sinclair, S. The colours and contours of compassion: A systematic review of the perspectives of compassion among ethnically diverse patients and healthcare providers. PLOS ONE 13, e0197261 (2018).
Sanghavi, D. M. What Makes for a Compassionate Patient-Caregiver Relationship? Jt. Comm. J. Qual. Patient Saf. 32, 283–292 (2006).
Dewar, B., Adamson, E., Smith, S., Surfleet, J. & King, L. Clarifying misconceptions about compassionate care. J. Adv. Nurs. 70, 1738–1747 (2014).
Kalam-Polli, S. Compassionate Care: As Defined By Individuals Who Have Used Mental Health Services And Are From An Ethnic Minority Background. (University of East London, 2021). doi:10.15123/uel.8q13y.
White, A. A. & Stubblefield-Tave, B. Some Advice for Physicians and Other Clinicians Treating Minorities, Women, and Other Patients at Risk of Receiving Health Care Disparities. J. Racial Ethn. Health Disparities 4, 472–479 (2017).
Tarraf, W., Jensen, G. & González, H. M. Patient Centered Medical Home Care Among Near-Old and Older Race/Ethnic Minorities in the US: Findings from the Medical Expenditures Panel Survey. J. Immigr. Minor. Health 19, 1271–1280 (2017).
Pezzella, A. et al. IENE 9 project: Developing a culturally competent and compassionate LGBT + curriculum in health and social care education. J. Gay Lesbian Ment. Health 27, 118–124 (2023).
Love and loss through anticipatory grief caused by dementia. Sir Al Aynsley-Green https://www.aynsley-green.com/love-and-loss-through-anticipatory-grief-caused-by-dementia (2022).
Congenital Hyperinsulinism International | Congenital Hyperinsulinism International. https://congenitalhi.org/.
Krakauer, E. L., Crenner, C. & Fox, K. Barriers to Optimum End-of-life Care for Minority Patients. J. Am. Geriatr. Soc. 50, 182–190 (2002).
Christiansen, A., O'Brien, M. R., Kirton, J. A., Zubairu, K. & Bray, L. Delivering compassionate care: the enablers and barriers. Br. J. Nurs. 24, 833–837 (2015).
Crawford, P., Brown, B., Kvangarsnes, M. & Gilbert, P. The design of compassionate care. J. Clin. Nurs. 23, 3589–3599 (2014).
Norris, K. C. et al. Historically Black Medical Schools: Addressing the Minority Health Professional Pipeline and the Public Mission of Care For Vulnerable Populations. J. Natl. Med. Assoc. 101, 864–872 (2009).
It's time to take seriously the needs of children and young people living in the shadow of young-onset dementia affecting parents in families – Journal of Dementia Care. https://journalofdementiacare.co.uk/article/its-time-to-take-seriously-the-needs-of-children-and-young-people-living-in-the-shadow-of-young-onset-dementia-affecting-parents-in-families.
Online community for young onset dementia. Young Dementia Network https://www.youngdementianetwork.org/.
Chung, R. Y.-N. et al. Experience of South and Southeast Asian minority women in Hong Kong during COVID-19 pandemic: a qualitative study. Int. J. Equity Health 22, 110 (2023).
Giesbrecht, M., Crooks, V. A., Williams, A. & Hankivsky, O. Critically examining diversity in end-of-life family caregiving: implications for equitable caregiver support and Canada's Compassionate Care Benefit. Int. J. Equity Health 11, 65 (2012).
Frederic. New toolkit launched to improve dementia care for South Asian people. Race Equality Foundation https://raceequalityfoundation.org.uk/press-release/new-toolkit-launched-to-improve-dementia-care-for-south-asian-people/ (2022).
AhnAllen, C. G. How Should Trainees Be Taught to Have Compassionate Intention When Force Is Necessary to Care Well for Patients? AMA J. Ethics 23, 318–325 (2021).
Knutzen, M., Sandvik, L., Hauff, E., Opjordsmoen, S. & Friis, S. Association between patients' gender, age and immigrant background and use of restraint—A 2-year retrospective study at a department of emergency psychiatry. Nord. J. Psychiatry 61, 201–206 (2007).
Aynsley-Green, A. The British Betrayal of Childhood: Challenging Uncomfortable Truths and Bringing About Change. (Routledge, 2018). doi:10.4324/9781315098937.
Wittenberg, R. et al. Projections of care for older people with dementia in England: 2015 to 2040. Age Ageing 49, 264–269 (2020).
Watts, E., Patel, H., Kostov, A., Kim, J. & Elkbuli, A. The Role of Compassionate Care in Medicine: Toward Improving Patients' Quality of Care and Satisfaction. J. Surg. Res. 289, 1–7 (2023).