Policy
How to Build Climate Resilient Health Systems: Reinforce the framework instead of reinventing the wheel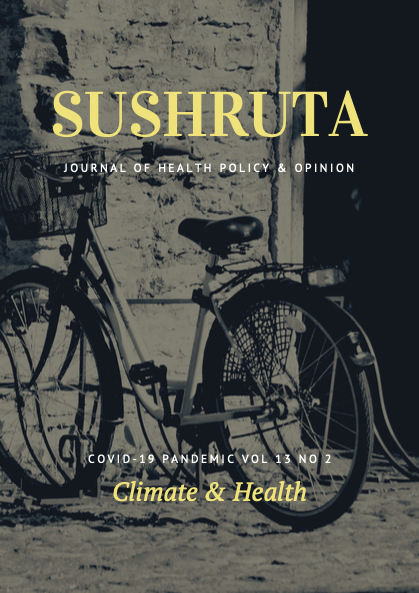 Published 2020-04-18
Keywords
Climate change

,

Health systems

,

Resilience
How to Cite
Yoong, S. (2020). How to Build Climate Resilient Health Systems: Reinforce the framework instead of reinventing the wheel. Sushruta Journal of Health Policy & Opinion, 13(2). https://doi.org/10.38192/13.2.1
Abstract
Climate change will have adverse effects on health at a population scale. Health systems need to be strengthened in order to better address changing health needs and increased demand. Frameworks exist to guide the improvement of health systems, however, they do not necessarily address adaptations to be made for climate change. This article reviews the WHO Operational Framework and identifies where this can be built upon to tackles changing health needs due to climate change.  
References
An IPCC Special Report on the impacts of global warming of 1.5°C above pre-industrial levels and related global greenhouse gas emission pathways, in the context of strengthening the global response to the threat of climate change, sustainable development, and efforts to eradicate poverty. Intergovernmental Panel on Climate Change; 2018.
Blanchet K, Nam SL, Ramalingam B, Pozo-Martin F. Governance and Capacity to Manage Resilience of Health Systems: Towards a New Conceptual Framework. Int J Health Policy Manag. 2017;6(8):431-5.
Operational framework for building climate resilient health systems. Geneva, Switzerland: World Health Organization; 2015. https://apps.who.int/iris/handle/10665/189951
Tanner T, Lewis D, Wrathall D, Bronen R, Cradock-Henry N, Huq S, et al. Livelihood resilience in the face of climate change. Nature Climate Change. 2014;5(1):23-6.
Nyong A, Adesina F, Osman Elasha B. The value of indigenous knowledge in climate change mitigation and adaptation strategies in the African Sahel. Mitigation and Adaptation Strategies for Global Change. 2007;12(5):787-97.
Mahoo H, Mbungu W, Yonah I, Recha J, Radeny M, Kimeli P, et al. Integrating Indigenous Knowledge with Scientific Seasonal Forecasts for Climate Risk Management in Lushoto District in Tanzania. Copenhagen, Denmark: CGIAR Research Program on Climate Change, Agriculture and Food Security (CCAFS); 2015. Contract No.: CCAFS Working Paper no. 103.
Pearce T. Adaptation to climate change and freshwater resources in Vusama village, Viti Levu, Fiji. Regional environmental change. 2018.
Laurice Jamero M, Onuki M, Esteban M, Billones-Sensano XK, Tan N, Nellas A, et al. Small-island communities in the Philippines prefer local measures to relocation in response to sea-level rise. Nature Climate Change. 2017;7(8):581-6.
Ayeb-Karlsson S, van der Geest K, Ahmed I, Huq S, Warner K. A people-centred perspective on climate change, environmental stress, and livelihood resilience in Bangladesh. Sustain Sci. 2016;11(4):679-94.
Mortreux C, Barnett J. Climate change, migration and adaptation in Funafuti, Tuvalu. Global Environmental Change. 2009;19(1):105-12.
Romero-Lankao P. Climate Change and Cities: Second Assessment Report of the Urban Climate Change Research Network. Cambridge, United Kingdom and New York, NY, USA; 2018.
Kona A, Bertoldi P, Monforti-Ferrario F, Rivas S, Dallemand JF. Covenant of mayors signatories leading the way towards 1.5 degree global warming pathway. Sustainable Cities and Society. 2018;41:568-75.