Opinions
Standing up for a Healthier Future for the Next Generation: Campaigning for Free School Meals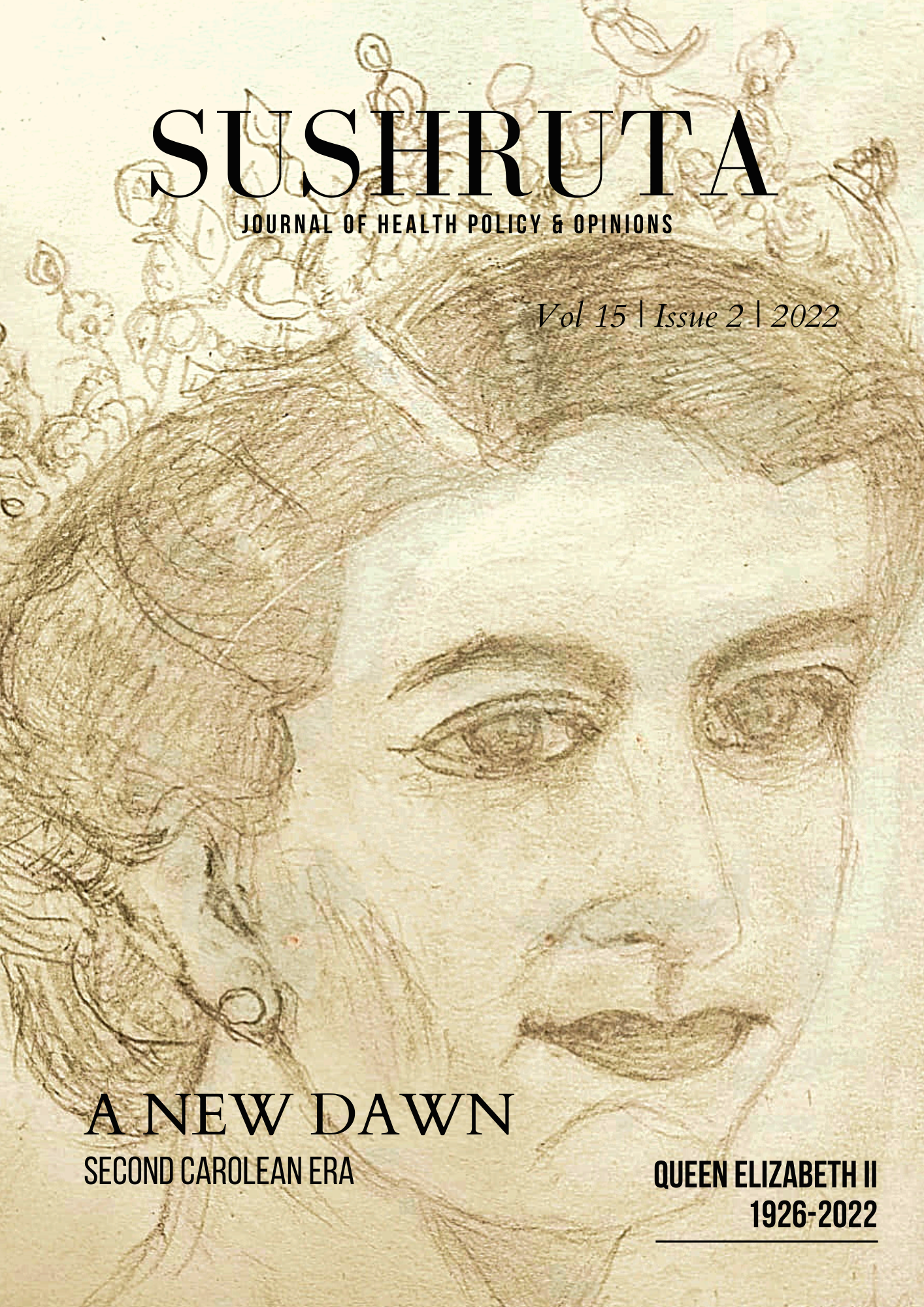 How to Cite
Daga, S., & Daga, V. (2023). Standing up for a Healthier Future for the Next Generation: Campaigning for Free School Meals. Sushruta Journal of Health Policy & Opinion, 15(2), 1-6. https://doi.org/10.38192/15.2.5
Copyright (c) 2023 Sneha Daga
This work is licensed under a Creative Commons Attribution 4.0 International License.
Abstract
Food poverty is a real issue in the modern United Kingdom and one that adversely affects children leading to a long-lasting impact on their future health. This has been further complicated by the COVID-19 pandemic,[1] the economic recession and the cost-of-living crisis. Increasing numbers of families are struggling to pay their bills whilst being forced to choose between buying essential food for their children. Many children are going hungry in schools with inadequate provisions for free meals. The concept of eating healthily is understandably low in priority, and healthy, affordable food is scarce. There is the additional element of the impact of an unequal society and inherent biases, which affects families and children from marginalised communities far more.
What is our role as young people growing up in modern, multi-cultural Britain? What meaningful contribution can we make to achieving a fair and just society, that we read about in our school lessons? This opinion piece will explore some of the ways we as young people, can make a difference in our own communities and neighbourhoods. There are lessons to be learnt from such role models as young activists such as Malala Yousafzai, Greta Thunberg and Licypriya Kangujam.
References
Pepetone A, Frongillo EA, Dodd KW, et al. Prevalence and Severity of Food Insecurity Before and During the Coronavirus Disease 2019 Pandemic Among Adults and Youth in Australia, Canada, Chile, Mexico, the United Kingdom, and the United States. The Journal of Nutrition Published Online First: 9 January 2023. doi:10.1016/j.tjnut.2022.12.031
Hayre J, Pollock AM. Children in poverty: Time for action to address rising inequalities in the United Kingdom. Poverty & Public Policy 2022;14:423–36. doi:10.1002/pop4.353
Lambie-Mumford H, Dowler E. Rising use of "food aid" in the United Kingdom. British Food Journal 2014;116:1418–25. doi:10.1108/BFJ-06-2014-0207
Johnson K, Sultana Z, Byrne I. Child hunger is a political choice – we have a chance to end it with our bill. LabourList. 2022.https://labourlist.org/2022/12/child-hunger-is-a-political-choice-we-have-a-chance-to-end-it-with-our-bill/ (accessed 9 Mar 2023).
Purdam K, Silver D. Social policy and embedded evaluation: Assessing the impact of a food insecurity project in the United Kingdom. Social Policy & Administration 2020;54:999–1015. doi:10.1111/spol.12583
Access to healthy foods: part II. Food poverty and shopping deserts: what are the implications for health promotion policy and practice? - Tim Lang, Martin Caraher, 1998. https://journals.sagepub.com/doi/10.1177/001789699805700303 (accessed 9 Mar 2023).
Lambie-Mumford H. The Right to Food and the Rise of Charitable Emergency Food Provision in the United Kingdom. 2014.https://etheses.whiterose.ac.uk/7227/ (accessed 9 Mar 2023).
About Us | Bite Back 2030. https://www.biteback2030.com/about-us (accessed 9 Mar 2023).
Superpowers of Free School Meals Evidence Pack | Food Foundation. https://foodfoundation.org.uk/publication/superpowers-free-school-meals-evidence-pack (accessed 9 Mar 2023).
What we do | Food Foundation. https://foodfoundation.org.uk/what-we-do (accessed 9 Mar 2023).
End Child Poverty - Campaigning for an end to child poverty. https://endchildpoverty.org.uk/ (accessed 9 Mar 2023).
Tweedy J. 'Every day, healthcare professionals see the impact of hunger and malnutrition': New campaign calls on Government to offer more free school meals. College of Medicine and Integrated Health. 2022.https://collegeofmedicine.org.uk/every-day-healthcare-professionals-see-the-impact-of-hunger-and-malnutrition-new-campaign-calls-on-government-to-offer-more-free-school-meals/ (accessed 9 Mar 2023).
Feed the Future campaign | Food Foundation. https://foodfoundation.org.uk/news/feed-future-campaign (accessed 9 Mar 2023).
Melchior M, Caspi A, Howard LM, et al. Mental Health Context of Food Insecurity: a Representative Cohort of Families With Young Children. Pediatrics 2009;124:e564–72. doi:10.1542/peds.2009-0583
Chefs-in-Schools-Summary.pdf. https://chefsinschools.org.uk/wp-content/uploads/2022/10/Chefs-in-Schools-Summary.pdf (accessed 9 Mar 2023).
Expanding Free School Meals would generate up to £41.3 billion for the economy | Food Foundation. https://foodfoundation.org.uk/press-release/expanding-free-school-meals-would-generate-ps413-billion-economy (accessed 9 Mar 2023).
Singh A, Shah N, Mbeledogu C, et al. Child wellbeing in the United Kingdom following the COVID-19 lockdowns. Paediatrics and Child Health 2021;31:445–8. doi:10.1016/j.paed.2021.09.004
Morris K. Faces of hunger: an intersectional approach to children's right to food in the United Kingdom. Journal of Law and Society 2022;49:726–52. doi:10.1111/jols.12397
Lambie-Mumford H, Sims L. 'Feeding Hungry Children': The Growth of Charitable Breakfast Clubs and Holiday Hunger Projects in the UK. Children & Society 2018;32:244–54. doi:10.1111/chso.12272