Opinions
Climate Change & Childhood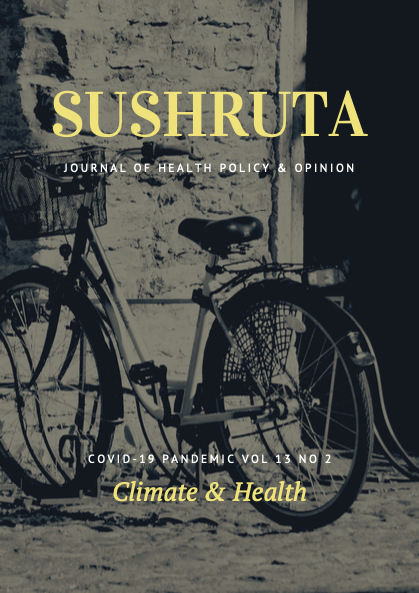 Published 2020-04-18
How to Cite
Singh, G. (2020). Climate Change & Childhood. Sushruta Journal of Health Policy & Opinion, 13(2). https://doi.org/10.38192/13.2.3
Abstract
When I was a child, I was a proud member of the World Wildlife Fund for Nature. I would pore over my issued green wallet and the gleaming silver-gold coins with endangered species imprinted where the Queen's head should be. Saving the world was a noble goal, and as a young person, I was earnest about it.

Today, as a practicing paediatrician, I see it less as a quaint interest than a matter of life and death.
References
Barrett, M., Belward, A., Bladen, S., Breeze, T., Burgess, N., Butchart, S., ... & de Carlo, G. (2018). Living planet report 2018: Aiming higher.
Clark, H., Coll-Seck, A. M., Banerjee, A., Peterson, S., Dalglish, S. L., Ameratunga, S., ... & Claeson, M. (2020). A future for the world's children? A WHO–UNICEF–Lancet Commission. The Lancet, 395(10224), 605-658.
World Health Organization. (2018). The state of food security and nutrition in the world 2018: building climate resilience for food security and nutrition. Food & Agriculture Organisation.
Francis, P. (2016). Laudato Si': On Care For Our Common Home. Perspectives on Science and Christian Faith, 68(4), 266-268.
Thunberg, G. (2019). No one is too small to make a difference. Penguin.
Van den Bergh, J. C., & Kallis, G. (2012). Growth, a-growth or degrowth to stay within planetary boundaries?. Journal of Economic Issues, 46(4), 909-920.